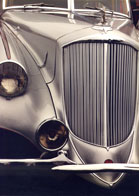 TESTIMONIALS
"First and foremost, Tom McCurdy is a car guy; he loves cars. We liked his professional attitude and his easy going honest manner. He really works with you. We especially liked his philosophy of selling used cars...Tom only sells cars he and his family would want to own. We got a great quality VW Eurovan...in all it was a very good experience...in fact, a fun experience. Next time we need a car, we will go to Tom first!"
Peggy and Steve Zablotny, Vineyard Haven
I really like the van that I bought from Tom McCurdy. It's fun to drive, has all the amenities and is like new. Tom got me great financing and into a much nicer van than I thought I could get. I was so happy with it that 7 months later I went back and got my wife a very nice Grand Cherokee. Thanks Tom.
"Panhead" Mike Fuss, Oak Bluffs